This blog is written by students at UDSM who worked with the CONCH team in the summer of 2018 during fieldschool in Pangani. In April 2019 they exhibited their work at a poster competition during a study week and won third prize in the undergraduate catergory. We offer the students who took part our congratulations and also thank the team for letting us share their experience on this website.
***********************
Taarifa Fupi Juu Ya Mawasilisho Yaliyo Fanyiki Katika Wiki Ya Utafiti Chuo Kikuu Cha Dar Es Salaam Juu Ya Matumizi Ya Teknolojia Ya Digitali Ya Malikale Upande Wa Pangani. (Digitalization Of Cultural Heritage: Pangani Case Study)
Utangulizi
Ni takribani mwaka sasa tangu Balele kafumu, Filomena Amani Venance, na Hadija Kimaro tupokee mafunzo ya vitendo kutoka kwa wawezeshaji wa CONCH wakiongozwa na Dr. Stephania Dr. Sara Perry, Dr Dav na timu ya watu wengine kutoka sehemu nyingine.Mafunzo haya yameleta manufaa makubwa sana kwetu wanafunzi wa chuo kikuu cha Dar es Salaam na jamii inayotuzunguka kwani yalilenga katika kuboresha na kuhifadhi malikale akam tamaduni zetu, magofu na makumbusho hasa Makumbusho ya Pangarithi yaliyopo Pangani, Tanga. Mafunzo hayo yalijuimuisha namna ya kutumia tecknolojia ya digitali kuhifadhi na kuboresha malikale zetu na makumbusho yetu ambayo yana thamani ya kihistoria, kijamii, kiutamaduni na kiuchumi kupitia teknolojia hii ambayo inapelekea ongezeko la utalii Pangani. Kutokana na umuhimu wa mafunzo hayo tuliona si vyema yakaishia Pangani tu, bali ilitulazimu kuweza kufikiria njia bora ya kuwasilisha mawazo na mafunzo hayo kwa jamii inayotuzunguka na njia pekee ilikuwa ni kufanya utafiti mdogo juu ya teknolojia ya mambokale pangani ("Digitalization of cultural heritage: the case of Pangani District") na kufanya mawasilisho ya ripoti hiyo ya utafiti katika wiki ya utafiti kuanzia ngazi ya Insia mpaka ngazi ya chuo.
Introduction
It is nearly a year since Balele Kafumu, Filomena Amani Venance, and Hadija Kimaro received training from the Conch Project, led by Dr Stephanie Wynne-Jones, Dr Sara Perry, and Dr Dav Smith. This training has brought great benefits to us at the University of Dar es Salaam and the community around us as it focused on improving and preserving cultural values, ruins and museums, with a focus on the existing Pangarithi heritage centre in Pangani. Training was in how to use digital technologies to preserve our heritage and improve the ways that we present it for historic, social, cultural and economic value through increased tourism in Pangani. Due to the importance of this training we did not want it to end in Pangani, but it was necessary to think of the best way to present these ideas and training to our fellows. The simplest way which we had was to conduct a research entitled "Digitalization of cultural heritage: the case of Pangani District " and we made a presentation of the results during research week at the University.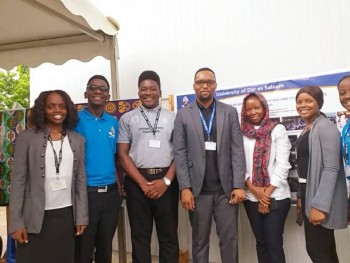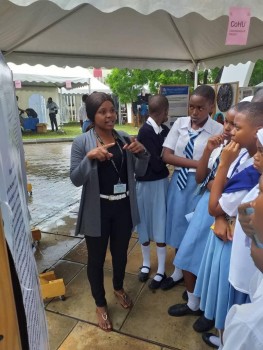 Mafanikio
Katika uwasilishaji tumeweza kufanikiwa katika vitu vifuatavyo:
Tumeweza kutoa elimu juu ya umuhimu wa teknolojia ya digitali katika Uhifadhi na utunzaji wa malikale na makumbusho yetu.
Tumeweza kushika nafasi ya tatu kama wazo bora la mradi kwa wanafunzi wa elimu ya awali katika ngazi ya Insia na chuo na kuweza kutunukiwa vyeti kama zawadi.
Outcomes
Through making this presentation we have achieved the following:
We managed to provide education on importance of digitalization on conservation and preservation of our archives and museums;
We took third place as best undergraduate project idea at College level and received an award of certificates.
Maoni kutoka hadhira
Tumeweza kupata maoni mbalimbali juu ya matumizi ya teknolojia kwenye uhifadhi wa tamaduni zetu (Digitalization of cultural heritage) kama ifuatavyo:
Asilimia kubwa ya watu walishauri kwamba zoezi hili liwe endelevu lisiishie Pangani tu bali tuweze kutembelea sehemu nyingine za malikale na za kitamaduni ili ziweze kuhifadhiwa.
Tulishauriwa kwamba tuweze kuhifadhi pia malikale zisizoshikika au kuonekana (intangible heritage)
Tuunde tovuti au blogs ambazo digitali ya malikale zinaweza kuwekwa na pia watu wengine wanaweza kuzipata kwa urahisi pind wanapozihitaji.
Feedback from the audience
We gathered views on the role of technology in presenting cultural heritage:
A large proportion of people advised digitalization of cultural heritage should not be restricted to Pangani but should cover other heritage and cultural sites so that they could be preserved in digital way;
We were also advised we should not concentrate only on tangible heritage but also intangible heritage;
Websites or blogs should be accessible to anyone in need.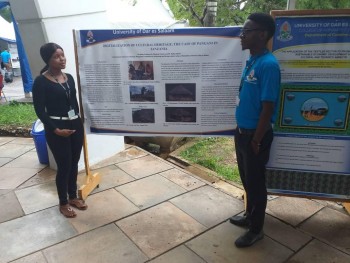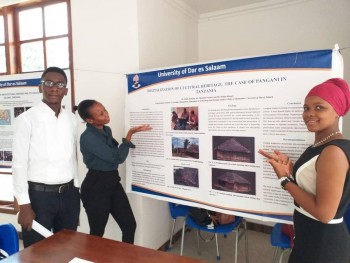 Changamoto
Katika safari yetu hii tumekutana na changamoto mbalimbali ikiwemo
Ukosefu wa vitendea kazi ili kuleta uhalisia katika mawasilisho yetu mfano; tanakilishi mpakato (laptop),kamera, Drone, na PDF ya 3D Swahili buildings.
Ukosefu wa wataalamu wa digitali ya malikale ambao wanaweza kutuendeleza na kutupa ujuzi Zaidi kuhusu teknolojia hii.
Challenges
We faced various challenges, these include:
Lack of resources to make our presentation realistic: laptop, camera, Drone, and 3D models of Swahili buildings
Lack digital professional and material that can make use update our skills and be compentent in the all process of digitizing cultural heritage.
Maoni yetu
Baada ya mawasilisho haya tungependa kushaur katika vitu vifuatavyo,
Mchakato huu usiishie Pangani bali uwe ni mchakato endelevu uweze kufikia sehemu nyingine nyingi.
Tuweze kupata nafasi ya kuboresha elimu ndogo tuliyopata ili tuweze kuboresha ujuzi wetu katika teknolojia hii.
Serikali na taasisi husika iweze kutumia teknoljia hii ili tuweze kuendeleza ,kuhifadhi na kutunza malikale zetu kwa kizazi cha sasa na baadae.
Serikali na mashirika yanayohusika na malikale ziweze kuja na mkakati maalum unaoweza kutoa nafasi ya mafunzo kuhusu matumizi ya teknolojia hii.
Conclusions
After these presentations we would like to offer the following comments:
This process should not be restricted to Pangani but be an ongoing project to reach many other areas;
We would love to receive further training in these technologies;
The government and non-Government institution should embrace digital technology to develop, preserve and maintain our heritage for present and future generations;
Governments and organizations concerned with the developments may come up with a specific strategy that can provide training on the use of this technology.
Shukrani
Tunapenda kuchukua nafasi hii adhimu kuwashukuru timu nzima ya CONCH ikiongozwa na Dr Stephania, Dr Sara Perry, Dr Dav kutoka chuo kikuu cha York pia Dr. Noel Lwoga pamoja na Dr Elinaza Mjema kutoka chuo kikuu cha Dar es Salaam na mwisho kabisa tungependa kutoa shukrani zetu kwa ujumla kwa Idara ya akiolojia na malikale kwa msaada wao waliotupatia kwa namna moja au nyingine tunashukuru sana.
Thanks
We would like to take this opportunity to thank the whole team of CONCH led by Dr Stephanie Wynne-Jones, Dr Sara Perry, and Dr Dav Smith from the University of York and Dr Noel Lwoga along with Dr Elinaza Mjema from the University of Dar es Salaam and ultimately we would like to express our gratitude to the Department of Archaeology and Heritage for their support. We are very grateful.