Blogu hii imeandikwa kwa kiswahili na kwa kiingereza. This blog is written in both Swahili and English.
Imeandikwa kwa ushirikiano kati ya Daktari Dav Smith, mtaalamu wa Akiolojia ya Majengo kutoka Chuo Kikuu cha York na Sinyati Robinson, mwanafunzi wa Shahada ya Uzamili wa Akiologia, Chuo Kikuu cha Dar es Salaam. Inasadifu uzoefu wao katika kufundisha na kujifunza juu ya uchunguzi wa majengo kama sehemu ya taaluma ya Akiolojia, na pia kuhusu majengo ya kushangaza pamoja na historia ya Kilwa.
This blog is co-written by Dr Dav Smith, Buildings Archaeologist at University of York, and Sinyati Robinson, MA Archaeology student at UDSM. It reflects their experiences in both teaching and learning about techniques in surveying buildings (as part of archaeological study) and also about the amazing ancient structures and history of Kilwa
******************************************************************************
UTANGULIZI (Sinyati Robinson)
Ilikua nafasi ya pekee kuwa sehemu ya timu ya utafiti katika mradi wa CONCH uliofanyika msimu wa mwezi wa sita mwaka 2019. Timu ya utafiti ilijumuisha maprofesa na wanafunzi kutoka York na Chuo Kikuu cha Dar es Salaam. Utafiti ulijikita katika maeneo mawili ya Urithi wa Dunia ya Kilwa Kisiwani na Songo Mnara. Wakati wa utafiti huu uliofanyika Kilwa, tulifanya shughuli mbalimbali zilizolenga kutengeneza mahusiano mazuri kati ya jamii na maeneo ya urithi, ukuzaji na uhifadhi wa maeneo haya, pamoja na kurekodi majengo kwa kutumia njia za kidijitali. Mimi, Noel, Joyce, Mlowoka na Bwanga tulipata nafasi ya pekee ya kufanya kazi na Daktari Dav Smith, mtaalamu wa Akiolojia ya Majengo.
INTRODUCTION (Sinyati Robinson)
It was great to be part of the CONCH research team in Kilwa during the field season of June 2019. The research team included professors and students from the University ofYork and the University of Dar es Salaam (UDSM). The field specifically focused on the two UNESCO World Heritage Sites of Kilwa Kisiwani and Songo Mnara. During our field stay in Kilwa, we performed various activities that aimed at creating community's strong relationship with the sites, promoting the sites, conservation, digital recording and documentation of buildings.
I, Noel, Joyce, Mlowoka and Bwanga had a great opportunity and an amazing experience to work with Dav Smith, an expert of Buildings Archaeology.
BUILDING RECORDING (Dav Smith)
My primary role within the CONCH project has been to share my experience of, and enthusiasm for, Buildings Archaeology, and Tanzania doesn't offer a better place to do this than at the stunning heritage sites at Kilwa. CONCH 2019 represented a great opportunity to consider how the recording and analysis of standing remains can aid in our understanding of the past, and how this can inform the conservation, management and interpretation of complex heritage sites.
Building on last year's visit to Pangani, this year I was excited to work with Masters students from UDSM and Antiquities Department staff at Kilwa. It was great to meet the UDSM students, Sinyati, Joyce, and Noel, in Dar es Salaam and to start to get to know them on the long journey down the coast to Kilwa. On arrival in Kilwa, we met Mercy, Mlowoka and Bwanga at the Antiquities Office. Our first building recording activity was to produce sketch plans, initially solely by eye, and then by pacing rooms to establish their relative proportions. These sketch plans help to create a basic record and encourage us to think about the different spaces that make up a building.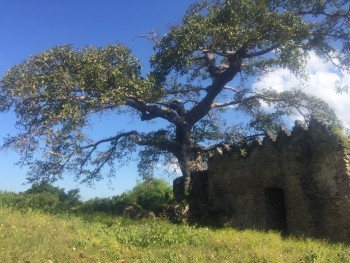 After lunch Steph led us on a tour of the ruins of Kisiwani, including its amazing coral-constructed houses, forts, and mosques. The sight of a large tree growing out of a wall of the Great Mosque led to an interesting discussion with Mercy about conservation principles and approaches to managing deterioration. This visit was a great opportunity to start to understand the complexity of the standing historic fabric in Kilwa, and its conservation challenges… as well as an opportunity to be a tourist at this stunning site.
The following day was an early start, as we had a long boat trip out to Songo Mnara, a site I have been hearing about for years and was very eager to see. I was fascinated to learn of the common spatial relationship between historic settlement sites and the presence of baobab trees, with their distinct grey canopies often identifying heritage sites on the coast as we travelled past. Wading through the shallow water in the mangroves was an incredibly evocative way to access Songo Mnara, and emerging to find the vast ruins spread out in front of you was truly awe inspiring.
Steph provided an excellent tour of the site, offering a wealth of knowledge based on years of excavation and research at the site. After undertaking a heritage exercise, where I acted as a representative tourist, we had freshly-caught fish roasted by the fire for lunch. The afternoon was an opportunity to return to sketch-planning and an exercise in producing measured-sketches, using hand tapes and an REDM (reflectorless electronic distance measurer). Everyone engaged brilliantly with this exercise, producing some excellent detailed measured plans complete with trilateration (diagonal measurements). Running short of time, we finished the day capturing photographs for a photogrammetry exercise the following day.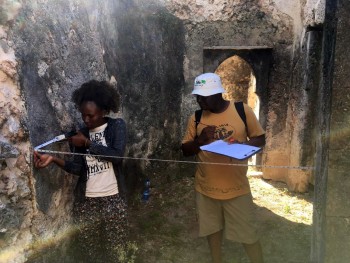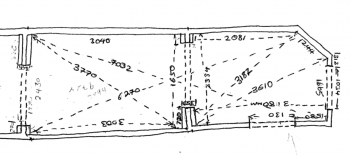 Friday dawned hot again and marked my last day in Kilwa - my visit was passing so quickly! We started the day by travelling to Kivinje, a town founded by the Omani in the C18th. Here we utilised the C19th German 'boma' (customs house) to explore rapid condition surveys of standing buildings. This exercise started with building up a Glossary of Materials found in the building, including names in both English and Swahili along with a description. Our next exercise was to develop a companion Glossary of Deterioration, defining the different factors affecting the building and how they can be described and defined. These glossaries were then used to complete a Rapid Condition Survey, allowing for a consistent approach and terminology when completing the template. This not only ensures different buildings are recorded in a consistent manner, but allows for the assessments to be repeated consistently, so rates of change and deterioration can be established. After lunch and back at the Antiquities Office in Masoko, we were joined by Mjema (Co-Investigator of the CONCH project, based at UDSM) and Julius (another MA student from UDSM). We finished our buildings recording exercises by processing the photogrammetry images from Songo Mnara and Kivinje.
A special thanks to everyone for being so engaged and enthusiastic, and for sharing their knowledge and expertise - I learnt so much about the local heritage, its materials and conservation, and the unique opportunities and challenges presented at Kilwa. A final special thank you to Noel for being a translator extrordinair throughout the building recording and conservation activities.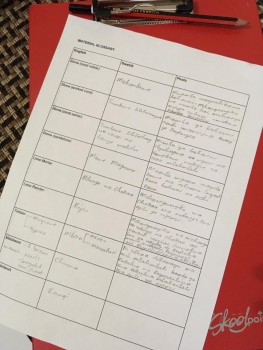 'PHOTOGRAMMETRY' (Sinyati Robinson)
Siku ya tatu ya utafiti tulitembelea magofu ya Songo Mnara ambapo tulirekodi baadhi ya sehemu katika Kasri. Kwa usaidizi wa Dav, tulijigawa katika makundi mawili, baada ya hapo, tulichukua vipimo vya jengo kwa kutumia kipimo cha mkanda na kipimo cha kielektroniki cha umbali kinachojulikana kama REDM (reflectorless electronic distance measurer) ili kutengeneza mchoro. Baadae, tulipiga picha baadhi ya vyumba vya Kasri katika pembe tofauti tofauti kwaajili ya 'photogrammetry'.
Siku iliyofuata tulichakata picha tulizopiga Songo Mnara kwa kutumia programu ili kutengeneza picha za mfumo wa 3D. Utaalamu huu ulikua mpya kwetu, lakini kwa usaidizi wa Dav, tuliweza kumudu mchakato. Tulianza kwa kufungua faili la picha katika sehemu ya programu ya kufanyia kazi. Programu iligundua moja kwa moja picha zenye sifa zinazofanana na kuzihusianisha ili kutengeneza 'point cloud'. Mwisho wa mchakato huu, tulikua na picha za mfumo wa 3D ya baadhi ya vyumba vya Kasri.
Utengenezaji wa picha zilizopigwa kwa mfumo wa 2D kwenda mfumo wa 3D ni utaalamu wa kuvutia na kufurahisha. Kwa ujumla, utaalamu wa 'Photogrammetry' ni wa muhimu na ni mbinu inayofaa sana katika utengenezaji wa ramani za majengo ya kihistoria na maeneo ya kiakiolojia. Teknolojia hii ni sahihi na inawafaa wanaakiolojia katika kutafiti, uchoraji wa ramani na kuweka rekodi za maeneo ya kiakiolojia.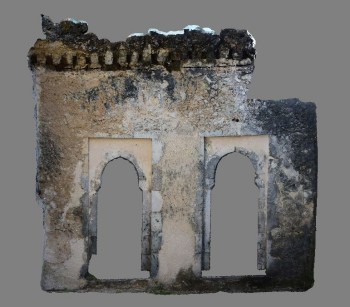 PHOTOGRAMMETRY (Sinyati Robinson)
On the third day we paid a visit to the ruins of Songo Mnara where we did the recording of some parts of the palace. With the guidance of Dav, we first divided ourselves into two groups, afterwards we took the measurements of the building by using hand tapes and REDM (reflectorless electronic distance measurer) to create a sketch plan. The groups then took photos at different angles of some of the rooms of the palace for a photogrammetry.
In the following day, we processed the captured photos from Songo Mnara using a software to create 3D models. Being a new knowledge to me, it was not an easy task but with the guidance of Dav I successfully mastered the process. We started by opening the file of the captured images in the software workplace. The software then automatically detected images of the same features and correlated them to create the 'point cloud'. At the end of the process we had the 3D model for some of the rooms of the palace.
Creating the 3D models from the 2D captured images was very interesting and I really enjoyed this new knowledge. Generally, I found photogrammetry as very important and useful technique in enhancing the mapping of historic buildings and archaeological sites. The technology is also very accurate and suitable for archaeologists in surveying, mapping and documenting the sites.